---
How you hair order will be processed
 

TERMS & CONDITIONS
This website is operated by Truscend Hair. Throughout the site, the terms "we", "us" and "our" refer to Truscend Hair.
Please read this information carefully as it contains important details about our store policy that may apply to you.
We support the quality of our products coz customer satisfaction is our Truscend first goal. We believe we can work well with our clients to make every purchase a positive experience. Our hair is carefully hand inspected and conditioned before leaving our warehouse. Due to the nature of our product, and because each individual piece comes from a separate donor, we cannot guarantee hair color or texture.
All terms of payment are always 100% upfront. We accept all major credit cards. As soon as you place an order online your credit card will be charged. We have zero tolerance for credit card fraud and theft of our merchandise. Any fraudulent purchases will be prosecuted to the fullest extent of the law.
If have other problem in your order, a representative will contact you promptly after your order has been placed. But it may delay the shipping of your order. Prices for our products are subject to change without notice. We reserve the right at any time to modify or discontinue the Service (or any part or content thereof) without notice at any time. We shall not be liable to you or to any third-party for any modification, price change, suspension or discontinuance of the Service. 
Payment Methods   
Paypal ( Paypal@Truscend.com ) 
Pay with Paypal ( fastest and safest but with higher transaction fee on the large amount)
1. Make sure you do have a PayPal account
2. Be sure to login in your Paypal page first before making the payment
3. We only ship to the billing address, please choose the correct shipping address on the Paypal 
4. Don't choose the E-CHECK button, otherwise the payments need to be processed for a certain time to reach to our account. 
Western union & Money gram
Pay via Western union/Money gram( fast and safe and lower transaction fee on ordering more than $500, but total amount can't more than $5k)
1. Please go to your local Western Union/Money gram location, or you can do it online, but it may be more fee online. ( google : how to send money via Western Union) 
2. You will have A MTCN numbers
 ( tracking numbers ) after you made the payment, please send us so that we can receive your money. 
 Wire transfer/Bank transfer
Pay Via Wire Transfer/ Bank transfer(Typically for large amount order like more than $5k, the transaction fee is most effective)
1. Please go to your bank ( through online banking or ATM or going into a branch to complete the transfer of the money. 
2. Make sure that the amount you transfer  is the exact total of your orders
3. Please offer us your debit note after you complete the money transfer, we will notify you when we receive your payment. 
PAYMENT BEFORE DELIVERY! PAY FIRST SHIP FIRST!  Please ask our sale representative for Truscend official payment receipt account or provide us your Paypal email address.
Shipping Policy
We ship our packages out within 24 business hours via Fedex /DHL after payment received( if you need any other shipping methods, please contact us), Please order early to prevent delays during holidays and hot selling season. A tracking number and picture of your order will be sent to you by our Sale 
Representative after your hair is shipped out.
As follows are a Shipping time chart for American/Canada areas.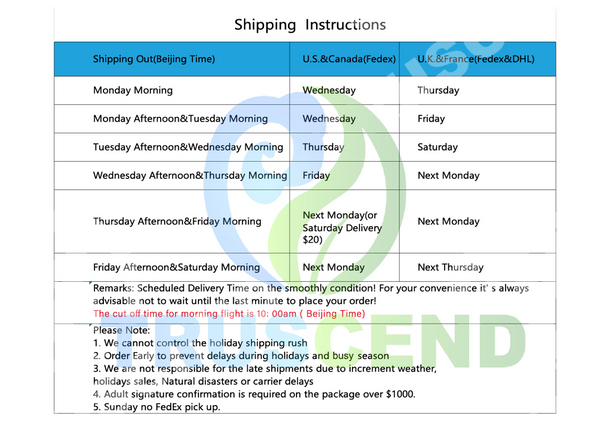 Exchange & Return Policy

 
At Truscend, we maintain a very high level of quality assurance. Our products go through a rigorous process to make sure you are receiving the best quality product possible. All hair orders are thoroughly inspected before shipping. It is our primary focus to make sure you are completely satisfied.
It is important to us that you are completely satisfied with your purchase.
If for any reason you do not absolutely love the item you ordered, we gladly offer returns and Free exchanges service. Please do not cut the lace/hair, make sure the wig is unaltered, unworn, unwashed, undamaged and in original packaging within 7 days.Customers are responsible for the return shipping charge and customs fees.
Before shipping back, please email us firstly for the shipping address. We have all rights to refuse the package if you send it back without our permission.
Custom wigs are final sale and no refund.
Not a product issue or a staff error, no refund.
Replacements
We take great pride in our product and it is 100% guaranteed. Since natural hair is reactive to a simple wash and deep conditioning product issues or concerns can often easily be remedied by implementing a simple care regimen. However, if you feel you've received a product that is truly defective and unusual we want to hear from you. If you have received any product that is defective you must contact us within 20 calendar days from the date of purchase. We will address the quality issue at once. A Customer Service Representative will provide instructions for the return of ALL of the product in question.
Note that perming, coloring, lifting, rinsing, cutting, removing the hair from the weft or otherwise processing the hair VOIDS the Product Defect Exchange Policy. If Truscend verifies and agrees that the product is defective in any way, Truscend will then exchange or replace the item.
Special Conditions
 Privacy

 Policy
The 
Privacy Policy 
and each of their respective subsidiary, parent and affiliated companies is deemed to operate this Website ("we" or "us") recognizes that you care how information about you is used and shared. We have created this Privacy Policy to inform you what information we collect on the Website, how we use your information and the choices you have about the way your information is collected and used.  Please read this Privacy Policy carefully.  Your use of the Website indicates that you have read and accepted our privacy practices, as outlined in this Privacy Policy.
Please be advised that the practices described in this Privacy Policy apply to information gathered by us or our subsidiaries, affiliates or agents: (i) through this Website, (ii) where applicable, through our Customer Service Department in connection with this Website, (iii) through information provided to us in our free standing retail stores, and (iv) through information provided to us in conjunction with marketing promotions and sweepstakes.
We are not responsible for the content or privacy practices on any websites.
We reserve the right, in our sole discretion, to modify, update, add to, discontinue, remove or otherwise change any portion of this Privacy Policy, in whole or in part, at any time. When we amend this Privacy Policy, we will revise the "last updated" date located at the top of this Privacy Policy.
If you provide information to us or access or use the Website in any way after this Privacy Policy has been changed, you will be deemed to have unconditionally consented and agreed to such changes.  The most current version of this Privacy Policy will be available on the Website and will supersede all previous versions of this Privacy Policy.
If you have any questions regarding this Privacy Policy, you should contact our Customer Service Department by email at
service@truscend.onaliyun.com
Information Usage
We will only use your personal identifiable information as described below, unless you have consented to:
We will use personally identifiable information to complete any orders you've placed;
We will use your personally identifiable information to respond to questions that you send to us;
We will use your personally identification information to send you emails from time to time, such as newsletters;
We may disclose personally identification information as required by law or legal process, etc.